Youth Tour
What is the Government-in-Action Youth Tour?
Every June, as many as 1,500 high school students from across the country spend a week in the nation's capital as part of the National Rural Electric Cooperative Youth Tour(link is external). The students are sponsored by electric cooperatives – cooperatives that are committed to educating America's rural youth about America and the role electric cooperatives play in developing strong rural communities.
Participating in the Youth Tour is an awesome way to learn about this great nation, develop leadership skills, gain a better understanding of electric cooperatives, and make friendships that will last beyond the week!
Fort Belknap Electric sponsors one student to represent the co-op each year in the Govenment-in-Action Youth Tour. We sponsor an essay contest and the top 5 essays are selected as finalists. The finalists are interviewed by a panel of judges and the winner is chosen with the essay being half of the score and the interview being the other half of the score. The essay information is available after January 2nd each year and the judging usually occurs in February of each year.
This all-expense paid trip to Washington, D.C. is a trip of a lifetime!
Contact us at 940-564-3526 for more information.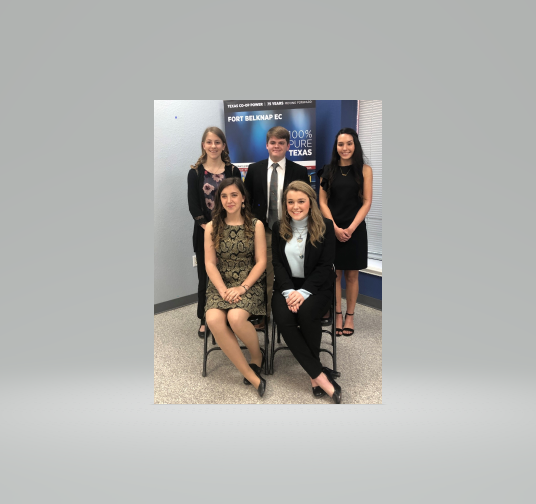 The names for the picture are as follows:
Left to right standing:  Kiara Allen, Lance Sprague and Myia Jackson
Left to right seated:  Kylie Deaton and Bryanna Nickel
Fort Belknap Electric Names Youth Tour Winners
Bryanna Nickel, a senior at Newcastle High School and daughter of Tony and Jina Nickel, has been selected as winner of an all-expense-paid Government-in-Action Youth Tour to Washington, D.C., sponsored by Fort Belknap Electric Cooperative.  Bryanna was one of five finalists selected for final interviews of the essay contest held on February 24 at the Fort Belknap Electric Cooperative office in Olney.
Kylie Deaton, a sophomore at Woodson High School, and daughter of Resa and Dale Deaton, was selected as alternate in the essay contest.
Other finalists that participated in the youth tour judging were:
Myia Jackson, a sophomore at Woodson High School and daughter of Melina and Jim Bob Jackson.
Lance Sprague, a senior at Olney High School and son of Howard and Lisa Sprague.
Kiara Allen, a junior at Olney High School and daughter of Peter Allen.
We congratulate our winners and finalists and would like to thank each of the students that entered an essay in our contest.
For any questions, contact us at 940-564-3526.